Well, well, well, no one probably saw this coming three years ago, especially former Lakers player, Matt Barnes (38), but yet here we are, and congrats are in order for his ex-wife and ex-teammate. Former "Basketball Wives" reality star, Gloria Govan (33) and former Lakers player, Derek Fisher, have a big announcement for y'all…
The Emotional Engagement
News has just surfaced that Gloria recently received the surprise of a lifetime, with a proposal from her man, Derek. The ex-NBA player/retired New York Knicks coach had it all planned out and even their kids were crying tears of joy.
Via TMZ: 43-year-old Fisher got down on one knee during a small shindig at their Los Angeles-area home on April 7, surrounded by their kids and Gloria's nephew. Derek had some of Gloria's friends take her out during the day so he could decorate the house while she was gone … candles, flower petals … it was romantic!
That new big rock on Gloria's left finger didn't come without a price though…
Their Controversial Beginning
Although Derek Fisher's and Gloria Govan's love is beautiful now, it wasn't that long ago that their romance caused some major 'smoke in the city,' like my grandmama used to say. Many of us recall, back in 2015, when Derek began dating the then wife of his ex-teammate, Matt Barnes. If not, let us refresh your memory. Derek and Matt played on the Lakers together for two years. Following their exits from the team, Gloria and Matt began to have some marital problems, prompting Matt to file for divorce in January 2015, but they did not divorce until 2016.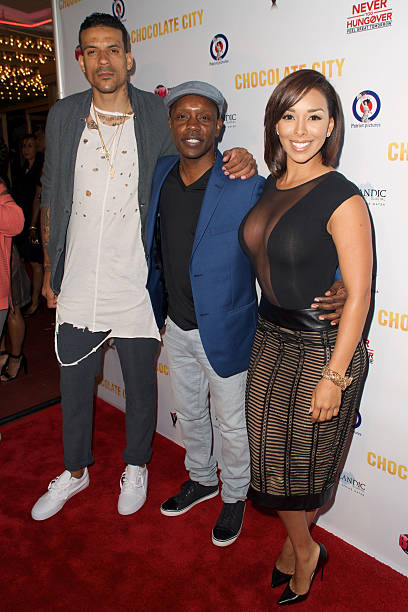 The ink was barely dry on Matt's initial divorce filing, by the time word spread in March 2015, that Gloria was officially Derek's woman…even though Derek was still legally married to his wife as well. Obviously, the news of Matt's estranged wife dating his ex-teammate didn't sit too well with Matt. Then, all hell broke lose…
Matt Barnes Drove 95 Miles To 'Beat The S**t Out Of' Derek Fisher
In October 2015, Matt drove 95 MILES to whoop Derek's a$$, after he was tipped off by his and Gloria's then 6 year old twin sons, that she had Derek in their home. Matt darted from his then Memphis Grizzlies California based training camp, to the home he was still paying the bills for, only to find out that what his sons called to tell him was true:
Via New York Post: Barnes…found Fisher, Govan and about 10 other people around a bonfire in the back yard, sources said. "Barnes went crazy. He got in his car and went to the house and went after Fisher," one source said. "Matt then drove down there to beat the s–t out of him." A fight erupted at 11:45 p.m.[…]. Cops were called, but Fisher left before they arrived, the sources said.
After the fiasco went down, it was reported that Matt texted one of his homies and said, 'I kicked his a$$ from the back yard to the front room, and spit in her face.'
Via NYP: A source close to Fisher confirmed the fight, but insisted it wasn't as one-sided as Barnes claimed. "Matt came after Derek, but he only had a few scratches," the source said. "Derek's not going to press charges; he's going to let it go."
Beef Squashed
In March 2018, Matt revealed, in an interview with FSI, that he's since squashed his beef with Derek Fisher because of his unconditional love for his and Gloria's kids:
"My boys really took a liking to him," Barnes said. "'Daddy, we want you and Derek to be friends, and he's a good guy.' I knew outside of the move he pulled, he was a cool dude. Like I said, we were teammates, and Fish was a cool dude…

"I just pulled him to the side and explained why I fought him, and he understood. He apologized. I apologized for letting it escalate to a fight, but it just kind of was what it was. I explained — it wasn't the fact that it was my ex. It was the fact that you're in my house with my kids."
What Matt Thinks About Their Engagement:
All's well, that ends well.