The year, 2018, has officially started off with a bang for actor, Michael B. Jordan. It's probably not quite the bang he was hoping for, but it's still a bang nonetheless. Video has surfaced of Michael ringing in the new year with a rumored boo-thang. He looked hella happy in the video, but many of his fans are not.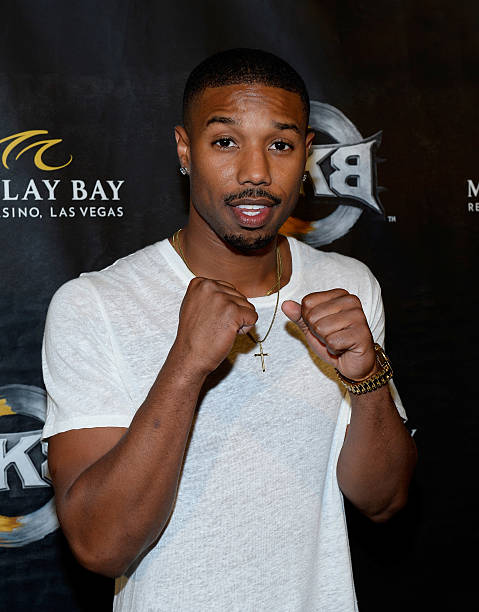 You see, after fans saw that Michael B. Jordan's alleged girlfriend is non-Black, all HELL broke lose among Black Twitter, as well as Instagram. A Latina woman, by the name of Ashlyn Castro, is widely being reported as his new bae. In the video footage, she snuggled up next to Michael like they'd been comfy cozy with one another on several prior occasions.
Meet M.B. Jordan's Rumored Boo
Fans Sound Off!
As soon as The Jasmine Brand posted photos and footage of the Black Panther actor with his rumored bae, there were many mixed reviews. Some fans slammed him for dating outside of his race. Others felt that he shouldn't be judged about it. Then there were some fans who took it all the way personal and threatened to hit Michael where it hurts- in his bank account- by boycotting his upcoming highly anticipated film, Black Panther.
Yep, it got really real for M. Jordan on social media. Check out some of the comments below to get a clearer picture of just how real things just got for him and his (alleged) Latina bae:
Michael B. Jordan think he slick tryna keep his exotical white IG hoe girlfriend a secret since Black Panther coming out. I see you b pic.twitter.com/e3HJ0BpWZa

— St. Dyana (@rudeyhuxtable) January 2, 2018
Y'all were cheering and rooting for Meghan Markle, Serena Williams and Rihanna for dating outside their race but as soon as Michael B Jordan does the same thing, y'all mad and outraged & probably say he hates his momma. But don't mind me… pic.twitter.com/YI2vaIVVYX

— Kεnføʀɗ Sтᴀrɢαʀуєɴ?? (@Negreauxdamus) January 2, 2018
Insecurity is my biggest pet peeve..

The fact that I can go look on Michael B Jordan IG and see him get bashed by thousands of black women all because he ain't dating a black woman is sad.

Stop saying "we don't care who y'all like"

It's a damn lie apparently

— 5️⃣ Days (@DariGottaSpeak) January 2, 2018
Who cares?! Folks should date/marry who they fall in love with. The only time I give the ?is when jokers believe that other races are superior to their own. Other than that, have at it.

— S. Wimberly-Hawkins (@2BGMEDIA) January 3, 2018
It's understandable why some people are taking Jordan's choice in women personally. Why? Because it's not a secret that although African American women are beautiful queens, in our society Black women are oftentimes treated as the farthest thing from queens and of course, that ain't right. So when a Black male celeb' is perceived as not thinking that Black women aren't 'worthy enough' to have on his arm, it sometimes gets personal. BUT let me play devil's advocate for a second…


It's true that Black women get unfairly mistreated within our culture and especially among the entertainment industry. However, I also think that whoever slams Michael B. for dating outside of his race, should give that same slander to ALL the other Black male entertainers for doing so as well. There are plenty to choose from. For example: Michael Jordan (the basketball player), P. Diddy, Lil Wayne, Jay Ellis (the actor who plays "Lawrence" on Insecure), Kanye West, Dr. Dre, Kodak Black, and the list goes on, and on…and on.
Listen, my point is, everyone has a right to choose who they date, marry, etc…just like everyone has a right to choose judging them over it. But if we're gonna judge, let's try to be an equal opportunity judger, just sayin.' Thanks for reading.