In case y'all haven't heard, former "Basketball Wives" star, Gloria Govan, got engaged to her her ex-husband, Matt Barnes' former NBA teammate, Derek Fisher, in April 2018. When the news first broke, photos surfaced online of Gloria emotionally accepting Derek's proposal after he'd popped the question to her in front of his two children (from a previous marriage) and her two sons (with Matt Barnes). Plenty of folks had a lot to say about this online, but surprisingly, Matt spoke out at that time to congratulate his ex-wife and the teammate he once fought her over. Therefore, their beef seemed to have been squashed, until now. According to Gloria, ain't nothing squashed between the three of them.
Gloria Govan Has Strong Words For Matt
According to TMZ, 'Matt Barnes will "absolutely not" be in attendance when his ex-wife, Gloria Govan, marries Derek Fisher … so says Gloria, who claims the ex-NBA stars are still NOT on great terms.' If Matt tries to buy them a wedding gift, Gloria also made this clear: "I will throw that gift away."
Despite Matt Barnes reveal that he's forgiven Derek Fisher, Gloria says don't get it twisted, "[Matt] and Derek aren't cool…They're cordial. I wouldn't say 'beef' but they don't talk every week." Check out what else she had to say in the video below:
Matt Barnes Once Drove 95 Miles To 'Beat The S**t Out Of' Derek Fisher
Derek and Matt played on the Lakers together for two years. Following their exits from the team, Gloria and Matt began to have some marital problems, prompting Matt to file for divorce in January 2015, but they did not divorce until 2016.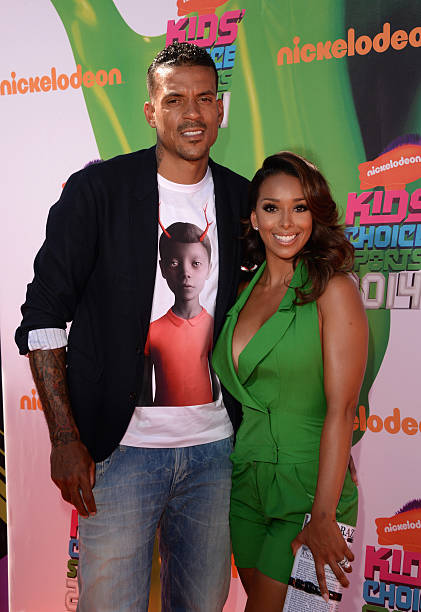 The ink was barely dry on Matt's initial divorce filing, by the time word spread in March 2015, that Gloria was officially Derek's woman…even though Derek was still legally married to his wife as well. Obviously, the news of Matt's estranged wife dating his ex-teammate didn't sit too well with Matt. Then, all hell broke lose.
In October 2015, Matt drove 95 MILES to whoop Derek's a$$, after he was tipped off by his and Gloria's then 6 year old twin sons, that she had Derek in their home. Matt darted from his then Memphis Grizzlies California based training camp, to the home he was still paying the bills for, only to find out that what his sons called to tell him was true:
Via New York Post: Barnes…found Fisher, Govan and about 10 other people around a bonfire in the back yard, sources said. "Barnes went crazy. He got in his car and went to the house and went after Fisher," one source said. "Matt then drove down there to beat the s–t out of him." A fight erupted at 11:45 p.m.[…]. Cops were called, but Fisher left before they arrived, the sources said.
After the fiasco went down, it was reported that Matt texted one of his homies and said, 'I kicked his a$$ from the back yard to the front room, and spit in her face.'
Via NYP: A source close to Fisher confirmed the fight, but insisted it wasn't as one-sided as Barnes claimed. "Matt came after Derek, but he only had a few scratches," the source said. "Derek's not going to press charges; he's going to let it go."
But again, in April 2018, Matt stated that they were all in a better space now and that he no longer harbors ill feelings toward Derek Fisher. Not sure who's lying here, but obviously somebody is.