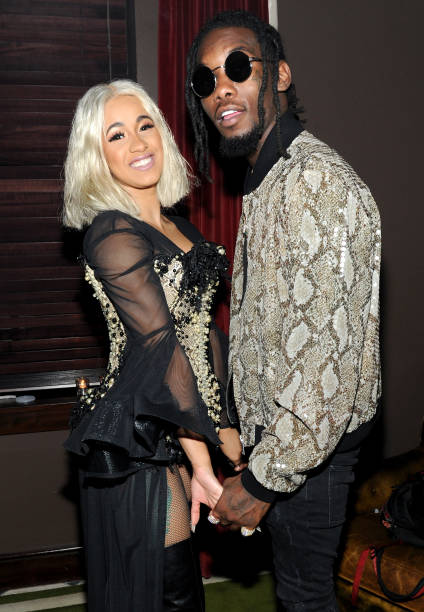 Offset is in hot water yet again. Just days after Cardi B. began rocking her engagement ring again, the Migos rapper was hit with another social media bombshell. Apparently, there's a second video floating around on social media. That's right, a second video, which suggests Offset has cheated on Cardi again. According to Bossip, the latest video has sparked all types of confusion for various reasons.
Caught Yet Again?:
Many fans are now asking one question: Did Offset really cheat on Cardi again? After being caught the last time, most fans would have thought he would tread lightly but if the latest video is confirmation, he and Cardi may be going their separate ways in the very near future. However, there are a few fans who are defending him. Could the video really be a continuation of the first video released? A scene fans didn't see the first time around? Hopefully, for Offset that's what it is because if not, he may have a very difficult time getting away with cheating this time around. Despite whatever the situation may be, fans are already dragging Offset to hell for the latest social media blunder. Needless to say, Offset has set Twitter ablaze with his latest cheating scandal.
Check out some of the tweets:
Me running to twitter from Instagram after learning about #Offset's hashtag pic.twitter.com/lHffJVglUq

— Roxasmortis (@RoxasMortis) January 5, 2018
Come on now ??‍♂️ #offset pic.twitter.com/rS5t2AQVMx

— Dré Blánco (@dreblxco_) January 5, 2018
Tell The Truth:
Offset's latest cheating scandal comes less than two weeks after he was caught the first time. When the initial reports surfaced, it was reported that Offset had apparently cheated just days before proposing to the "Bodak Yellow" rapper. Then to make matters worse, he was also hit with another bombshell last week. An Instagram model named Celina Powell came forward with claims that she'd slept with Offset and is pregnant with his child. Of course, he denies the claims but is she telling the truth? Well, there's one man who is encouraging him to set the record straight once and for all.
According to US Weekly, on Friday, January 5, Maury Povich reached out to Cardi B. on Twitter. In a tweet from The Maury Show, the host suggest a Lie Detector Test. ".@iamcardib if you ever need a Lie Detector Test or have more relationship drama…you know you can always call Uncle Maury!" read the tweet from The Maury Show.
.@iamcardib if you ever need a Lie Detector Test or have more relationship drama…you know you can always call Uncle Maury!

— The Maury Show (@TheMAURYShow) January 5, 2018
At this point, neither Cardi nor Offset have responded to Maury's offer but fans would definitely tune in if they decided to be featured on the popular talk show.
Remember…Love has the power to heal or kill… Always proceed with caution!