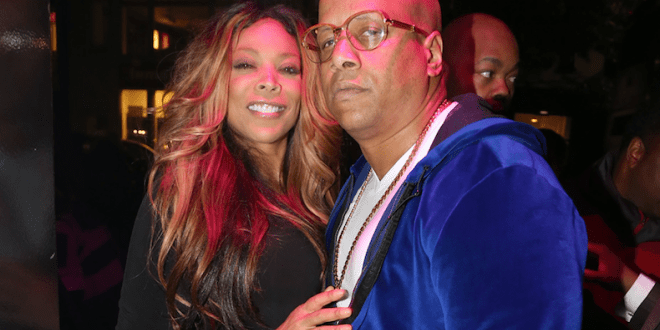 Don't Let Your Guard Down
As we all know Kevin Hunter still has his spot as executive producer on his estranged wife's show. However Wendy Williams is uneasy with the fact her ex, is still working on the set of her show. So much so, she has added extra bodyguards on set until he's officially out.
Sources connected to production stated Wendy has retained 3 full-time security guards. They are to standby while she preps for and shoots her daily talk show. This is supposedly temporary while Kevin is still an executive producer. The bodyguards are with her day-to-day, with every move she makes.
Wendy had initially hired a personal security team about a week before she served Hunter with divorce papers. There had been a number of blowups between them leading up to her filing due to all the allegations.
It was only a week ago that there was a major blow up on the set between Wendy and Kevin. It was so bad security had to step in between them and Kevin was temporarily removed from the area.
When Kevin initially got served with the divorce papers Wendy's unit was on set. Surprisingly when he got served, he kept his cool at the time. However for obvious reasons sources claim Wendy feared something could go down.
Maybe There Will Be Future Reconciliation
While Kevin is still technically working on the show as an executive producer, it has been made clear he won't be there for long. We're told the parties are trying to come to an "accord" that would allow him to step down.
After his alleged affair and baby with another woman, Kevin finally issued a statement this week. He acknowledges his wrongs, he takes full responsibility for his recent actions and is entering a time of serious self-reflection.
The split comes after nearly 22 years of marriage. Wendy says "irreconcilable differences" led to the end of the couple's marriage. The court documents state a "breakdown" of the marriage over a period of at least 6 months. Oddly enough she wants the court to determine an "appropriate amount" of child support. Even though their only son, Kevin Jr., is over 18.
Next Page: Kevin Hunter Apologizes >>>